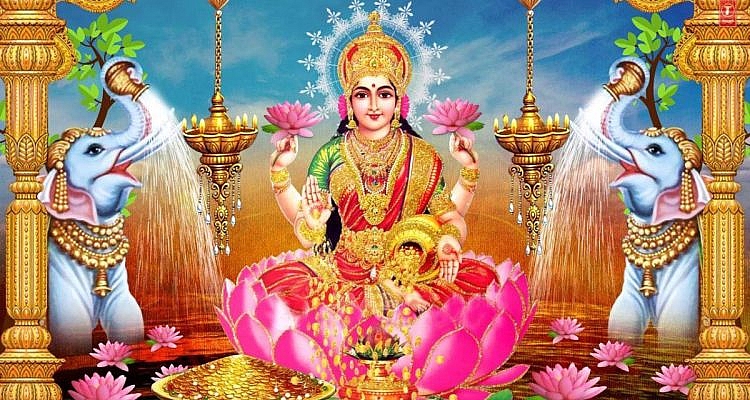 Namasté, we cordially invite you to experience and enjoy the grace and blessings of Goddess Mahalakshmi.
During the event, we will practice balancing breathing techniques and meditations from the ancient Himalayan Yoga Meditation Tradition. We will chant mantras and other sacred sounds from the Vedas. The mantras that we will be focusing on during this event are specifically dedicated to the Goddess Mahalakshmi, who is considered the Hindu Goddess of wealth, prosperity, love, and abundance. We will deepen practices as performed during our first event in May 2023.
In this event, we come together and practice from the traditional schools of Yoga, Vedas, and Shaktism (focuses worship upon Shakti or Devi, the Hindu Divine Mother with the use of mantra's). This event is open to everyone, regardless of your level of experience with meditation or chanting. Whether you are a seasoned practitioner or a beginner, you will find something of value in this event.
Goddess Mahalakshmi is a personification of one's fulfilled heart center.  She is the feminine counterpart and shakti of Lord Vishnu, who is considered the God of beauty, sustenance, and Life. Saints, seers, householders, and kings worship her alike as she fulfills one's Dharma (purpose), Artha (wealth), Kama (desires), and Moksha (liberation).
This event is a collaboration between Vedanta Wellbeing PhD & Healing Kaula.
About
Vinod: Vinod is a medical scientist with a PhD and officially certified yoga teacher in the ancient Raja Yoga of the authentic Himalayan Yoga Meditation Tradition. He is the founder of Vedanta Wellbeing PhD, a consultancy for physical and mental health and personal development.
He is interested in exploring paths toward Self-Realization, the Science of Mantras, Nada Yoga, Physical, Mental Health, Personal Development, and Healing.
Shri facilitator at Healing Kaula: Shri is a practitioner on the path of mantras. He explores anything mystical but is primarily invested in the shareable experiences, and transformational mysticism. He is an initiate and an adept student from A Thousand Suns Academy.
Date & time: Friday 23 June from 20.00 – 22.00.
Price: 14 euro.
Register and payment via https://hipsy.nl/event/16876-raja-yoga-meets-mahalakshmi-mantras-deepened-practice
Warm regards, Namasté,
Vinod and Shri
#mantra #yoga #rajayoga #meditation #mahalakshmi #goddess #india